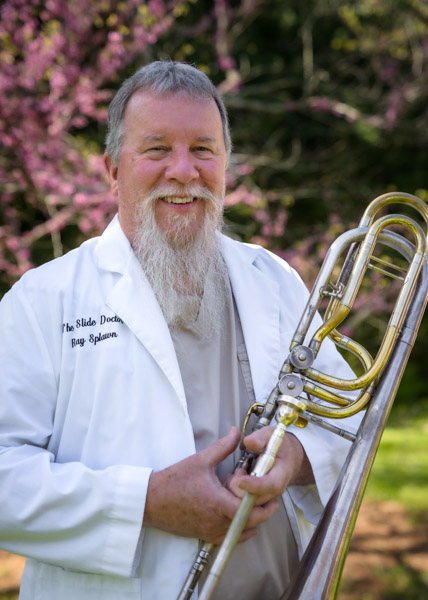 We are delighted to introduce Ray Splawn as the Slide Doctor. Ray is a professional trombonist, who studied with Bill Hill at Georgia State University and who continues to freelance in the Atlanta area.
Ray began with an apprenticeship in the Slide Dr. shop for five years and took proud ownership of the business. He not only is a highly skilled technician, he has an excellent engineering mind and understands how to make slides function at the upper limits of the technology of the tubes. He also understands our philosophy that no slide is returned until it is the best that we can make it given the quality of the components we have at hand.
As always, the Slide Dr. guarantee is complete satisfaction, or we will do whatever is necessary to try to make the slide function properly at no additional cost for labor.
We hope that you will stop by the shop, when you are in the North Georgia area, have your slide setup done and meet Ray.
The title of "The Slide Dr.," was given to John Upchurch, by Buddy Baker. When John completed his D.M. at Indiana University in the summer of 1970, he moved to Potsdam, NY to teach low brass and play trombone in the Potsdam Brass Quintet. With 24 (sometimes more) trombone students at the Crane School of Music of SUNY and another eight students at Queens University in Kingston, Ontario, it became apparent that the ability to do simple repairs would be a useful skill.
The Crane School had wonderful instrument repairman, Burton Stanley, who furnished basic information and sources for tools and supplies. A current trombone student, Dick Beamer and the Slide Dr. decided to learn how to fix slides the "old fashioned way…" trial and error.
When then Crane Trombone Choir performed at the ITW in Nashville in 1975, John was eager to share the knowledge he had gained with other players. At subsequent ITW's he gave slide clinics and set up shop in the display area.
In the following years, he served at Chair of Fine Arts at Brevard College and at Brenau University. In 1990, he was asked to become the Dean of Admissions for Brenau University, and in 2000 assumed the position of Assistant Vice President for Enrichment Programs. Throughout this time, he kept a busy performing schedule and repaired and set up slides for many of the best known players in the country and several international players, including Carsten Swanberg, Art Moore and Albert Manglesdorf.
After retiring from the university, the Slide Dr. moved full-time into serving the needs of trombone players with all levels of proficiency and from all over the United States.
It has been an honor and a pleasure to serve our many loyal customers and friends over the years.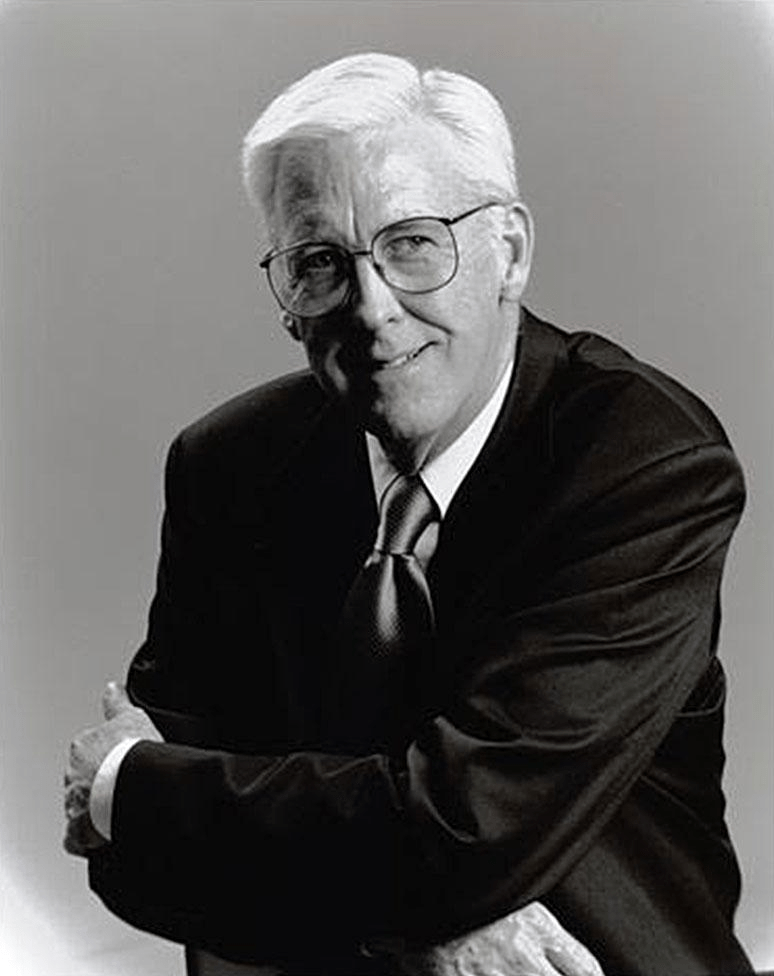 ONLINE TRIBUTE
International Online Tribute to the original Slide Doctor, John Upchurch, now the Slide Doctor, Emeritus.
Why trust your most prized instrument to a stranger?
Check over the list. Chances are that you will find more than one friend or acquaintance who will reassure your fears.
The Slide Dr.'s reputation speaks for itself!

"
Perfect!, Superb! You worked on my Bach 16M about a month ago. It had some metal memory problems, judging by the smoothness of the slide they have not reappeared. Among my trombone colleges I am known to be very fussy about slides. They seem to experience slides as acceptable that I find sticky and totally unacceptable. Of course I have been spoiled by your work on my other horns ( Connstellation, Yamaha 683G, Schmelzer model 2). The 16M is every bit as good as the others. And I mean as close to perfection as I can imagine a slide to be. the only way it could be better would be if I took the outer slide off the inner and moved it by itself through the air. The 16M is my favorite horn now, because of tone & response characteristics, but would not be if the slide were any less than it is. I will probably now be selling some of my other horns as I cannot imagine playing them when I have this baby to play. Thanks again for your truly superb work!
"
~ Bob Smith
Okemos, Michigan

"
John is a true craftsman! I have sent him the slide to every horn I have owned. I have sent him new and used slides, and in every case they came back better than new. I really can't say enough about John's work. I just wish I had known about him years ago when I traded way perfectly good horns with imperfect slides.
"
~ Chris Culver
Faculty, Jacksonville State University

"
I learned about the slide doctor about two years ago. I had dropped my King 2B slide on concrete, and feared permanent "school horn" condition. John nursed my slide back to better health than before I dropped it. More recently, I had an old bass in new condition except for the rough slide. John cleaned out the corrosion and straightened the bowed outer tubes, and now the whole horn is like new. Both times, John fixed and mailed back the slide within a day or two of receiving it. If you have a job in ten days and need your slide repaired now, the Slide Doctor will take care of you.
"
~ Dave Burch
Fanatical Amateur, Cincinnati area

"
I feel like "Dorsey". The slide feels just like my one-year-old BACH 16M. It "was" the best slide I'd ever owned. Now, I have another slide that's just as good, if not better. I can't wait for a couple more cleanings, so it gets faster yet. I hope you can do the same for the Martin, it has the most wonderful bright sound, and it seems very "trill" friendly. I feel like I can play anything when the slide is fast. Thank you for restoring this horn for me.
"
~Bruce Smith

"
You restore life! If I could play trombone as well as you fix slides, I'd be able to quit my day job. Thanks for the illustrated explanations about my slide's ills. You were correct about the huge dent from a bell smash. It's been a pleasure doing business with you. I really appreciate your fast service and your email updates.
"
~Bruce Holt
Minneapolis, MN

"
I bought an Ambassador used to use as a second horn at work. It turned out the slide was in awful condition. The seller offered to pay to have it repaired, so I took it to the local music shop. It worked somewhat better, but I despaired of using it. Then through trombone-l I learned about the Slide Doctor. Though I feared throwing good money after bad on a hopeless slide, I sent it in. I now have an Ambassador with as fast a slide as my King 3B. I think he should change his moniker to 'Slide Miracle Worker.
"
~Stephen M. Jones,
University of Maryland Baltimore County
Charities the Slide Doctor proudly supports:

"As a touring musician... I've had my slide aligned by some of the best technicians in the country... I would HIGHLY recommend the Slide Dr.'s services!"
Megan O

"Slide Dr. work is brilliant. I went to him a few years ago and will always continue to bring my slides. Very fair pricing and superior customer service makes the Slide Dr. stand above with his work."
Jordon S

"This man is an absolute magician. I destroyed my slide at a football game and took it to the Slide Dr the next morning. He fixed it better than it was new in no longer than two hours... Every trombone player should have the Slide Dr check out his/her slide. Absolutely recommended!"
Luis R

"My slide was in terrible shape. It was slow and out of alignment. I sent my slide to the Dr. and it is a different slide. They did a fantastic job. I would definitely recommend them."
Jay W
Have a question?
Let's talk slides!
The Slide Doctor, LLC
Ray Splawn
5290 Dunroven Way
Dawsonville, GA 30534