A Slide Setup gets the slide action as fast and smooth as the components will allow.
Please note, many of the outer handslides require disassembly in order to maximize the results of the slide setup.
A Slide Setup includes:
Chem-clean and polish the inside of the outer tubes
Straighten all four handslide tubes
Remove any dents or flat places; round the tubes. Please understand that tubes that have been "repaired" by others, making them larger in the process, do not always result in perfect action
Test individual tube pairs to make sure that there is no friction
When both pairs of tubes work correctly, assemble the outer handslide if it has been disassembled
Check and adjust width of right hand grip to insure the outer tubes are parallel
Check and adjust the left hand grip to insure that each inner tube centered in its respective outer tube
Spot lacquer any areas where lacquer was removed due to the necessity of heating to re-solder parts, for handslides that have been disassembled and reassembled
Using Great Slide Cleaning Polish, remove any remaining oxidation on the inside of outer tubes
Apply the Great Slide Slickcoat Sealant polymers to fill the valleys in the brass on the inside of the outer tubes and make the surface as uniformly smooth as possible
Clean several times to remove most of polymer treatment residue
Treat the outside brass surface areas with both Great Slide Polymer products to provide a protective shine
Play, test the action of the slide to make sure slide function is as good as possible
Check water key for proper closure, replace the cork and spring if necessary
Align and lubricate water key
Replace the felts in the cork barrels (unless the slide uses springs)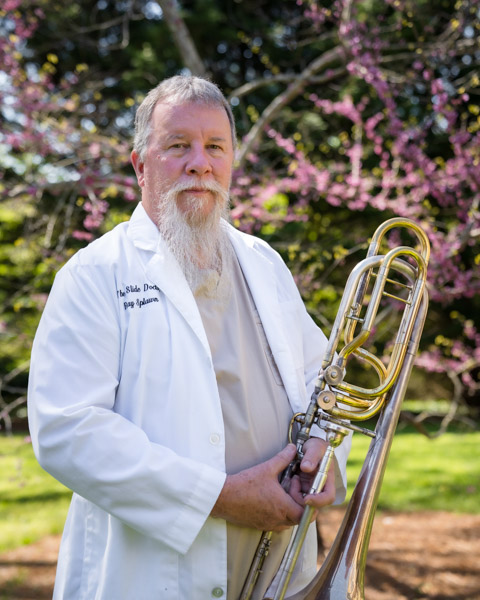 "As a touring musician... I've had my slide aligned by some of the best technicians in the country... I would HIGHLY recommend the Slide Dr.'s services!"
Megan O

"Slide Dr. work is brilliant. I went to him a few years ago and will always continue to bring my slides. Very fair pricing and superior customer service makes the Slide Dr. stand above with his work."
Jordon S

"This man is an absolute magician. I destroyed my slide at a football game and took it to the Slide Dr the next morning. He fixed it better than it was new in no longer than two hours... Every trombone player should have the Slide Dr check out his/her slide. Absolutely recommended!"
Luis R

"My slide was in terrible shape. It was slow and out of alignment. I sent my slide to the Dr. and it is a different slide. They did a fantastic job. I would definitely recommend them."
Jay W
Have a question?
Let's talk slides!
The Slide Doctor, LLC
Ray Splawn
5290 Dunroven Way
Dawsonville, GA 30534